PROPOSE YOUR PROJECT FOR THE OGP TOOLBOX HACKATHON AT THE OGP SUMMIT HERE!
The OGP Toolbox hackathon
When: Thursday, december 8 from 4pm to midnight and Friday, december 9 from 9am to 5pm
Where: Hall, Palais d'Iéna and other parisian venues (to be determined)
The OGP Toolbox: co-creation and resources sharing 
As announced at the Global Summit launch event on April 20, one of the main deliverables of this 4th Summit will be an open government toolbox : this platform will gather open gov digital solutions developed by the OGP community –  be it governments, civil society, cities, parliaments… – from all over the world. 
At the end of the Paris Summit, which will allow attendees to add their solutions, will be launched a global catalog of digital tools that are used all over the world to engage, activate citizen control, foster participation, animate public debate…
Open data portals, public consultation platforms, tools for monitoring and co-creating the law, discussion forums, civic tech solutions, online platforms to monitor the implementation of national action plans: there are already many of open gov softwares and online services used by governments and civil society around the world that could be referenced, shared and reused.
This toolbox aims at empowering governments and civil society with new tools, facilitating the implementation of national commitments made by governments in their national action plans and encouraging cooperation, peer learning and resource sharing between OGP members.
This catalogue will include examples of use cases and technical criteria to help choose among available solutions, and will allow to benefit from the experience of users that have already implemented those tools.
The toolbox will be launched at the end of the OGP 2016 Global Summit, on December 9.
A global hackathon during the OGP Summit on December 7, 8 and 9

The OGP Toolbox hackathon will be launched on Wednesday December 7 at the Elysée Palace – 55 Rue du Faubourg Saint-Honoré, 75008 Paris (registrations closed). It will continue during Thursday December 8 and Friday December 9 in the main hall of the Palais d'Iéna – 9 Avenue d'Iéna, 75016 Paris (registrations closed). The hackathon group that expresses the best the potential of sharing digital tools between governments and civil society from different countries will be invited to present its project at the OGP Summit closing ceremony, December 9 afternoon, at the Paris town hall – 3, rue de Lobau, 75004 Paris.
During this hackathon, while the international community is gathered in Paris, participants will be able to add their tools to the OGP Toolbox as well as to discover and test new solutions.
They will also work collaboratively to improve open government softwares and online services by developing new functionalities, by working on software interoperability, by translating solutions to internationalize projects…
The event also constitutes an opportunity to collaborate and coordinate efforts with similar international initiatives, such as Nuit Debout's wiki, Democracia en Red and Asuntos del Sur's Civic Stack platform, Microsoft's Civic Graph, NDI's Dem.tools or the French civic technology cartography made by the Minister of State for Digital Affairs, through data sharing or common reflection on civic tech taxonomy.
=> To participate in this final sprint, create projects, gather contributors, visit the platform : https://hackathon.ogpsummit.org
***
OGP Toolbox events
Several sprints and workshops have already allowed participants to work on use cases and referencing criteria, to test solutions, to improve the interoperability of technical tools and their translation into different languages, to identify new needs, to make software installation simple and accessible… During previous events, participants have worked, for instance, on harvesting existing catalogues, imagining reuses for the database such as civictech.lol, packaging software to facilitate automatic installation, and setting a benchmark of UI/UX applicable to the catalogue.
The next sprint will take place in Paris on November 19:
The OGP Toolbox: digital solutions to promote democracy – Saturday, November 19 – La Gaîté Lyrique (3bis Rue Papin, 75003) – Sign up here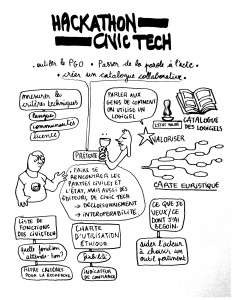 Past events:
Open workshop to outline the catalogue structure – Friday, June 3 from 14h30 to 19h at Etalab (39-43 quai André Citroën, Paris 15e)
Open Democracy Now! Hackathon during the Futur en Seine festival – Friday, June 10 and Saturday, June 11 at the Mozilla Foundation (16 boulevard Montmartre, Paris 9e)
E-démocratie debout Hackathon – Saturday, June 25 and Sunday, June 26 at Les Grands Voisins (72 avenue Denfert-Rochereau, Paris 14e)
1st GLobal Legislative Hackathon 2016 – Tuesday, June 28 to Thursday, June 30 at the World e-Parliament Conference, Chambre of deputies of Chili
Mapping digital engagement tools – Monday, July 4 at Easter Eggs (46 rue de l'Ouest, Paris 14e) – Sign up here
Open Democracy Now! Hackathon – Friday, September 16 to Sunday, September 18 at the Mairie du 18ème (1 Place Jules Joffrin, Paris 18e)
OGP Toolbox Hackathon: Civic Tech for Open Government – Wednesday, September 21  – Civic Hall  (156 5th Ave, New York) – Sign up here
Contribute to the project
We encourage you to:
follow up the progress of the project here;
contribute to the open database by adding new software and use cases here;
contribute to the code here.